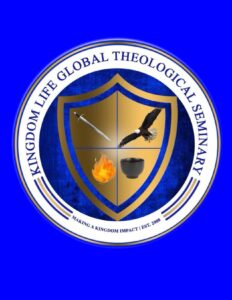 IMPARTATION
Welcome Potential student to Kingdom Life Global Theological Seminary where you will experience the spiritual impartation of God's Word and as well Kingdom Fellowship with laborers of the Gospel; As we together grasp God's purpose, will and mind for our lives. The Kingdom Life Global Theological Seminary will most certainly bless your life and help you to discover God's divine call for your life so that you may further impact the world for the Kingdom of God!!
We are excited about your future!!
Dr. Oscar Benton, Jr.
Founder/President

KINGDOM LIFE GLOBAL THEOLOGICAL SEMINARY | P.O. BOX 4208 ALBANY, GA 31706 | Drbentonjr@gmail.com|470-737-9282
2015. Copyright. All Rights Reserved.